Hull #240 - Farfalla
---
Image Gallery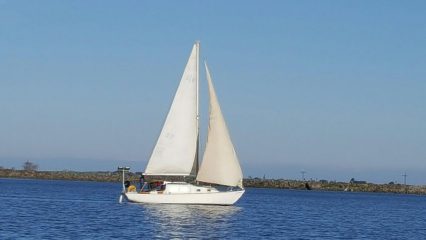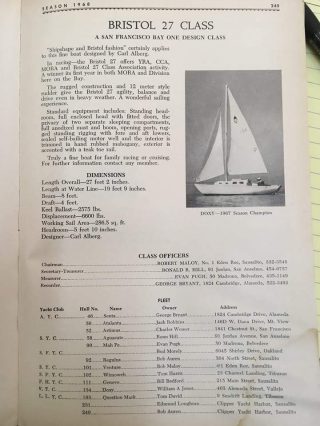 Quick Facts
Model: Dinette
Year Built: 1968
Hull #: 240
Vessel Name: Farfalla
Owner Name: Ray Hocking
E-mail:  rayhocking@gmail.com
Hailing Port: Isleton, CA
Sailboat History
From what I have ascertained, she was built and first splashed in the Sausalito boat yard in California. One of a few west coast built Bristols. She was a club racer that did decently. She falls off the charts for a couple decades until she came to a couple owners in the Sacramento river delta, before making her way into my [Ray's] hands.
Owner Comments
June, 2017
Wanted to share a photo from the San Francisco yachting yearbook for the small Bristol 27 one-design fleet from 1968. Farfalla (then, unnamed) #240 is listed: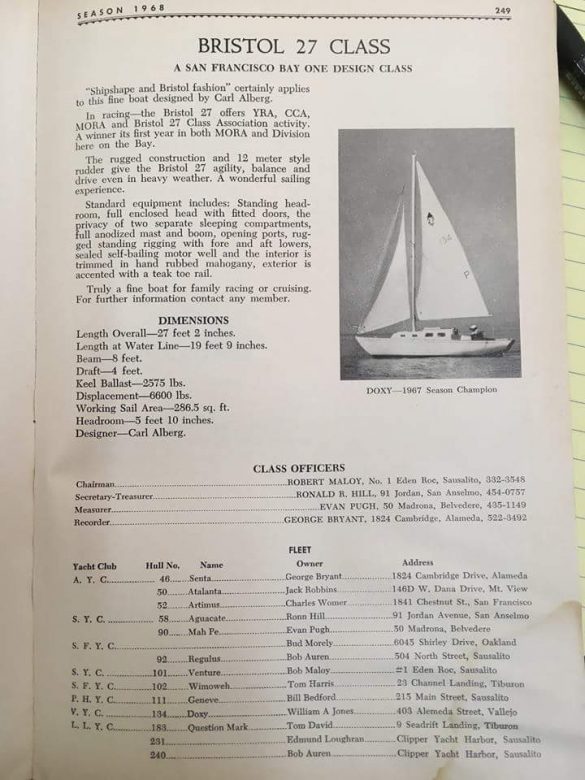 February, 2017
I have been upgrading and outfitting her for cruising and plan to do some cruising on her in a couple years. Most recently, I have been remodeling storage spaces, rewiring electrical, and regripping the deck and cabin top surfaces which were worn smooth over the years.  Pictures and more detailed project information to follow in the future.