Hull #354 – Liberty
---
Image Gallery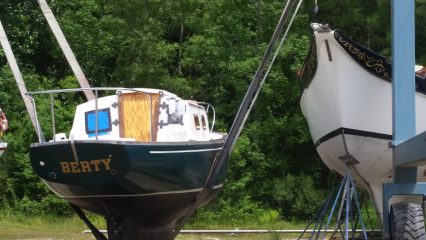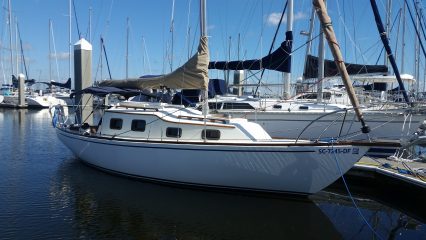 Quick Facts
Model:  Dinnette
Year Built: 1975
Hull #:  354
Vessel Name:  Liberty
Owner Name: Dean Creed
Hailing Port:  Charleston, South Carolina
Sailboat History
November 1, 2020 – [Here's some notes from a call with Dean on 10/29/20]:
The boat spent many years in a Pennsylvania barn, where a good bit of work was performed by shipright and woodworker Joel Beason, who sold it to David Fair around 2013.   
David Fair trucked the boat to a yard in Baltimore, Maryland and spent a fair sum having the boatyard do work on the boat (e.g. new yanmar engine, new bronze portlights, new standing rigging, etc.).
Dean purchased Liberty from David Fair in 2016 at a reasonable price.  The boat was then moved by a professional boat moving company from Baltimore to South Carolina.  At time of purchase, the entire interior cabinetry was removed, although a fair bit of the plywood and parts were included with the boat for reassembly.  Dean's goal was to get the boat in the water by 2018 and he and his son worked to put the boat back together pretty true to the original style and design.  The boat still has a few remaining projects, particularly involving interior cabinetry.  
As of October 2020, Dean has completed a few short trips with the boat in the water.  
Boat is powered by a Yanmar 2YM15 14.4hp inboard motor.
Best Dean can tell is that this boat began as "Genesis".  The boat's current name is "Liberty".
Boat doesn't have a trailer at this time.
[Here's an image of the boat after Dean and son's work on restoring this Bristol 27:]